All of us have, at least once in our lives, wanted to visit Australia, to see with our own eyes what really happens in this enigmatic "country upside down." People who decide to fulfill this dream are surprised to find that obtaining a visa to Australia is not such a simple task. Although the visa application process is not particularly outstanding, in terms of the number of refusals, it can even compete with obtaining an English visa. The strict visa policy takes any mistakes and inaccuracies very seriously, and the verdict of the consuls may not always be objective. In essence, within the application and documentation, you need to convince the consulate that you do not intend to stay in Australia for a period longer than allowed.
If you have not had experience with an Australian visa before, be prepared to go through a long and challenging journey. You will have to figure out the documentation and conflicting sources on your own, and most importantly, have a high level of English proficiency to understand the complex questions in the application form. If you are unsure about your chances, it is better to entrust the matter to people who have been dealing with challenging visas for many years. VisaDrom will save your energy and time, professionally advise on any matter, and take care of all the burdensome aspects on your behalf. Our company approaches each case individually, which maximizes our clients' chances of approval.
What exactly is an Australia Visa?
An Australia Visa is a document, sometimes maintained electronically, that allows international travelers to enter and stay in Australia for a set length of time. The type of visa required is determined by the reason for your visit.
Because of its simplicity and efficiency, the Australia e-visa application is a favorite approach for many. This digital approach has made it easier for visitors to obtain an Australia visa.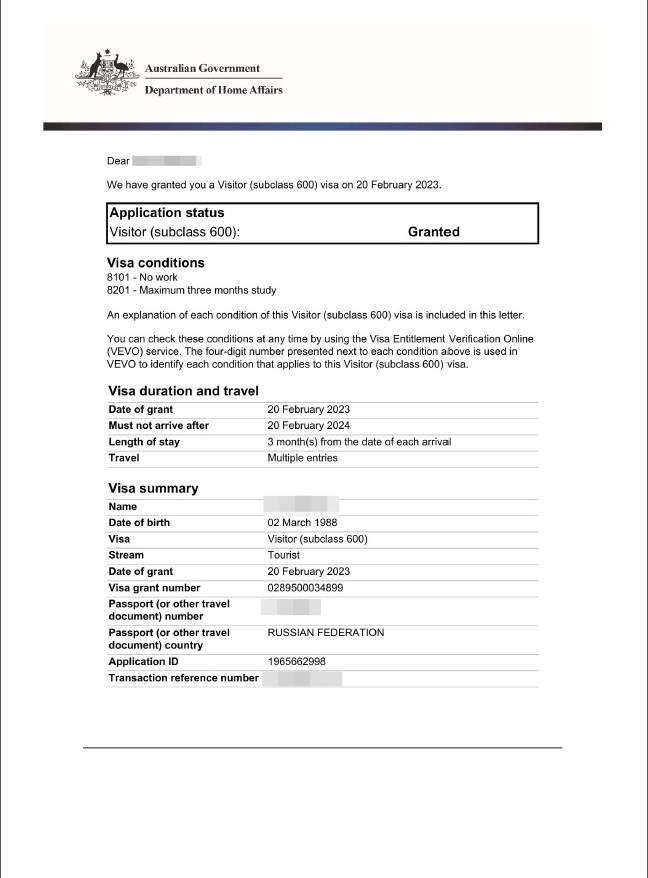 Which type of visa to choose for Australia?
Defining the purpose of your visit to the country is the first and most important stage, as it will determine your further actions. A hasty choice can negate all your efforts, so first of all, carefully analyze the purpose of your trip. All types of visas to Australia are divided into two main categories: immigration and non-immigration. Each visa has its own consular fee. VisaDrom can advise you on all non-immigrant visas listed below.
Types of visas to Australia:
Tourist Visa – For short-term leisure travel to Australia.
Visitor Visa – For visiting close relatives residing in Australia. An invitation from relatives will be required.
Business Visa – For business negotiations, conferences, and professional experience exchange. However, working and engaging in sales activities under this visa are not allowed.
Student Visa – For long-term study in the country. You can study in universities, schools, vocational institutions, and even take specialized courses.
Child Visa – Issued to minors as a tourist or visitor visa. It allows traveling unaccompanied, but parental or guardian consent is required.
Visa for Permanent Residency
What documents are needed for an Australian visa?
The list of documents is extensive and greatly depends on the type of visa to Australia. As no interviews are conducted when obtaining an Australian visa, documents play a crucial role. Lists may change, so it is better to check detailed information about the required documents on the official embassy website or with the company you have entrusted to process your visa. In addition to the application form, the main documents you will need are:
Valid Passport with copies of all pages;
Passport-sized pictures taken recently (One photograph sized 3.5 x 4.5 cm);
Proof of identity (birth certificates, marriage certificates, divorce certificates, children's birth certificates);
Information about your income (bank account, monthly income);
Travel documentation;
If necessary, health and character documentation.
To verify the essential paperwork, always consult the Australian Government's official website or the relevant Australian embassy.
All documents must be accompanied by high-quality translations into English. The only exception from this list is the passport itself. Remember that before submitting the documents, you need to take care of paying the consular fee, which is described below. You can contact us at any time to receive individual assistance in gathering the required documents for an Australian visa.
Step-by-step guide on how to apply for an Australia visa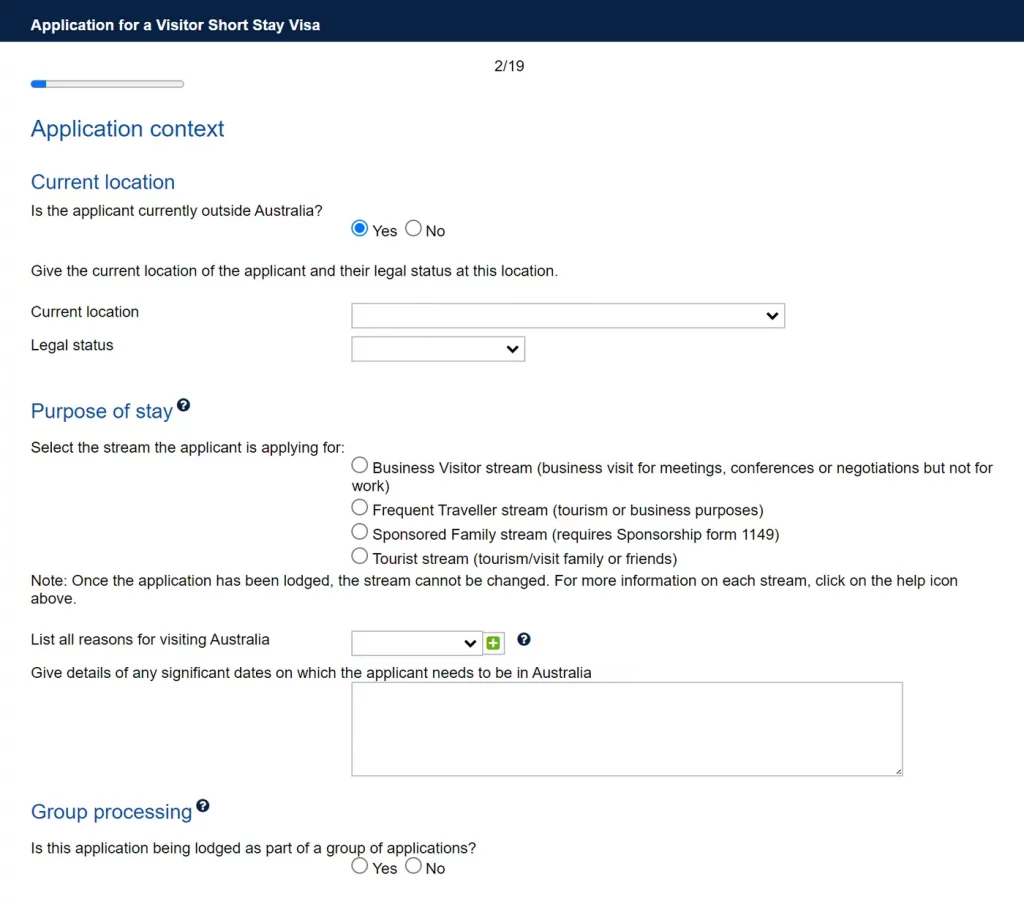 1. Determine the Correct Visa Type
The first step in applying for an Australia visa is determining which visa type is appropriate for your travel. This choice should be consistent with your motivations for visiting Australia.
2. Fill out the Visa Application Form
The next step is to fill out the appropriate visa application form. These forms are available on the official Australian Government Department of Home Affairs website. To avoid processing delays, remember to fill out the form completely and correctly.
You can fill out the Australia e-visa application form online. Make sure you have a reliable internet connection and all of the relevant paperwork.
3. Gather All Necessary Documents.
What documents are needed for an Australian visa are indicated in the paragraph above.
4. Pay the Visa Fee
You must pay the application cost after completing the application form and obtaining all required documentation. The price varies according to the type of visa.
5. Submit Your Application
You can apply for a visa online or in person at your nearest Australian embassy or consulate. You can submit your application and all required documentation for an Australia e-visa online.
6. Wait for the application to be processed.
The processing period for an Australian visa varies according to the type of visa. Check the status of your application online on a regular basis.
7. Get Your Visa
If your application is approved, you will receive your visa by email. You can then print this document and bring it with you when you arrive in Australia.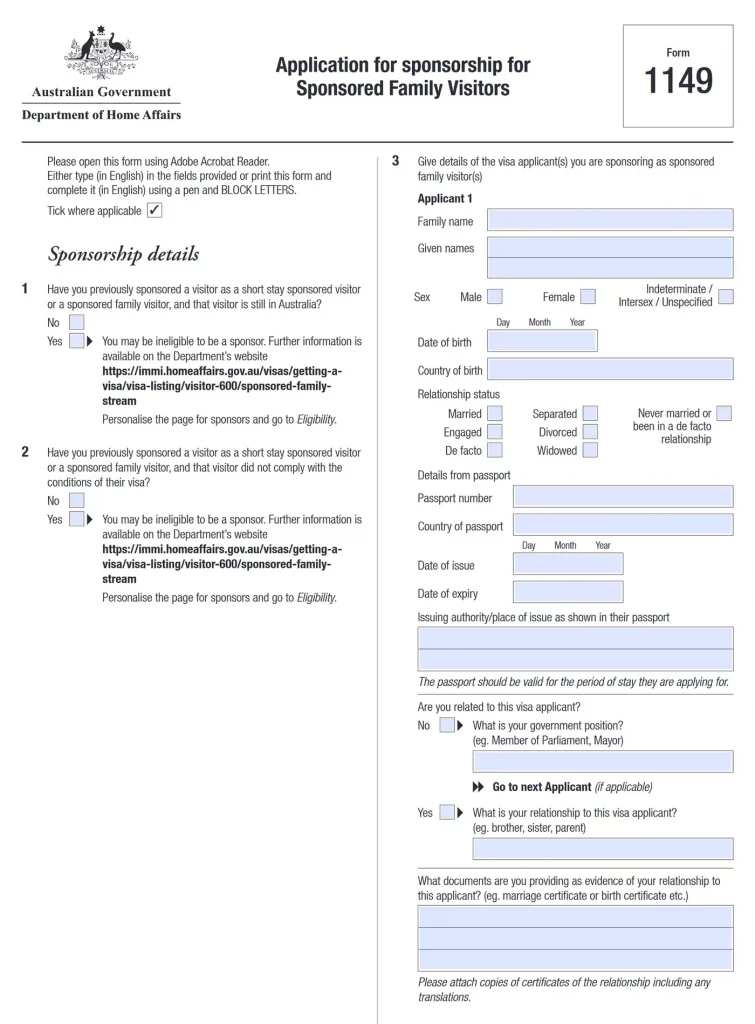 What are the common reasons for refusals?
The reason for refusal can lie in each of the stages. Firstly, pay attention to the purpose of your trip: incorrectly selecting the type of visa for Australia leads to a refusal in 100% of cases. The documents should not only be cross-referenced with official lists but also provide enough evidence of your non-immigration intentions: recommendations, passports with visas, invitations from relatives. The application form deserves special attention: the questions in it can be repeated and twisted, and the additional complexity is that it is provided only in English. It can be difficult for an unprepared person to complete the visa application in accordance with all the requirements, which is precisely why we offer our professional assistance to all those who wish to obtain that coveted Australian visa.
How to obtain an Australian visa with a clean passport?
Obtaining an Australian visa with a blank passport is entirely possible. To do this, you need to prove that you have a stable income, sufficient savings to cover the cost of living in the country, and strong ties to your home country. If you have an old passport, you can provide copies of it along with your current passport. If you are uncertain about your possibilities, we can analyze your strengths for free, which will become your support in the process of obtaining an Australian visa.
Australian Visa: cost, processing times, and urgency
You should start the visa application process for Australia two months before your intended trip. The consulate processes applications within a period of two weeks to 4 months.
If you urgently need an Australian visa, make sure you have a significant reason for it. This could be a relative's illness, funeral, business or cultural event, the beginning of studies in the country, or any other time-limited reason. When applying for an urgent visa, the consulate will consider the deadlines you specify.
Work on the documents will not begin until you pay the consular fee. In 2023, the cost of the fee starts from 150 Australian dollars. Payment can be made using Visa, MasterCard, JCB, American Express, and Diners Club cards.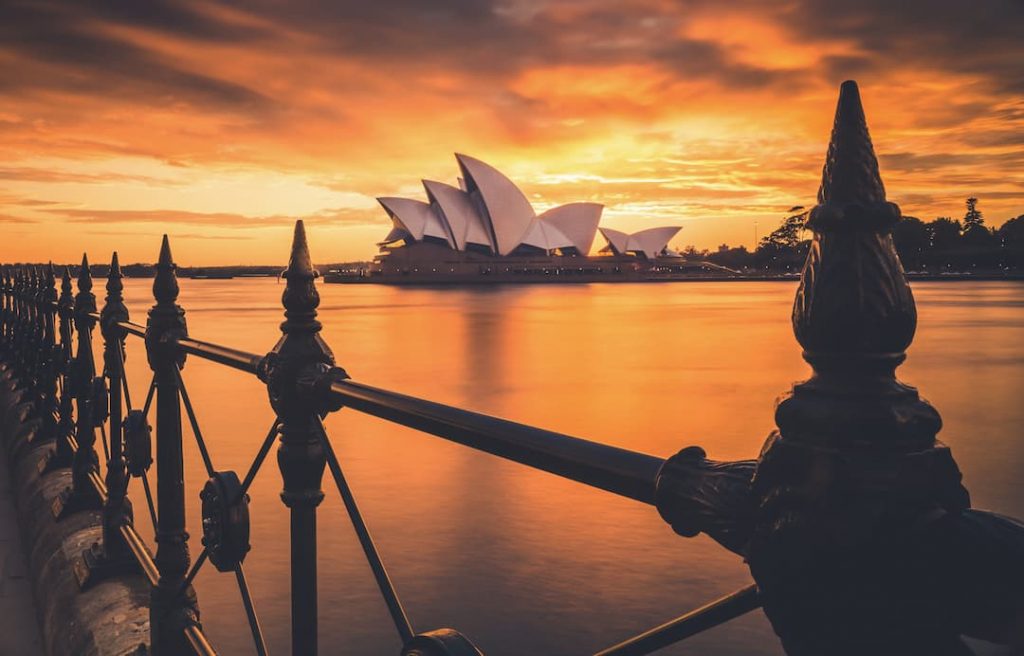 Understanding how to apply for an Australia visa is the first step in organizing a vacation to this beautiful continent. You will be able to effortlessly handle the application procedure if you follow these guidelines. Remember that the Australian Government's official website and your local embassy or consulate are always the best places to get the most up-to-date information. Best wishes!
Frequently Asked Questions